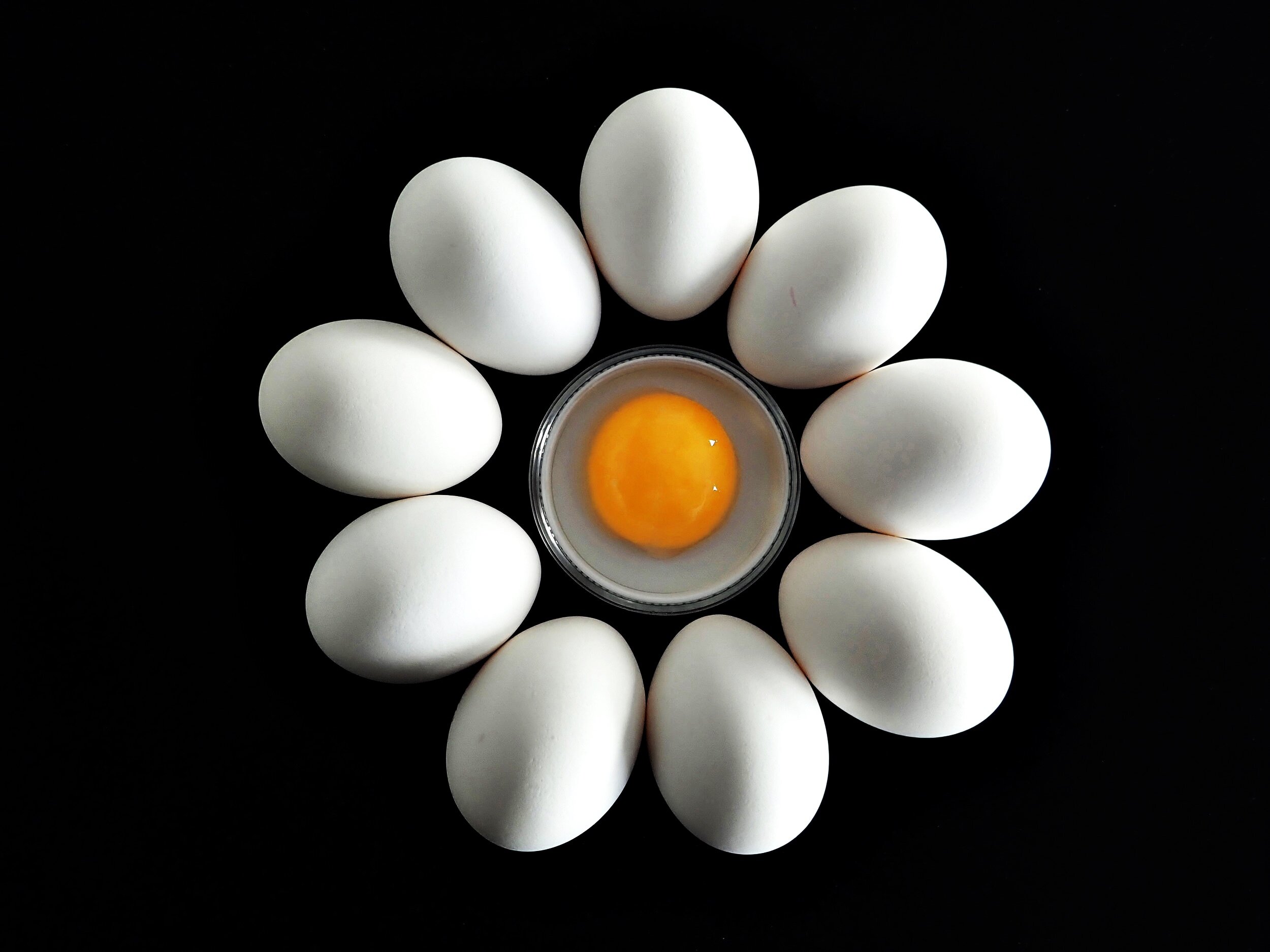 Blanc & Jaune
Sunday, October 4th, 2020
Recipes
by Ron Lindsey
Have you ever tasted the sweet essence of air?
Have you ever felt a refreshing lightness on your tongue that was so delightful, but seemingly without mass or structure?
Have you ever wanted something sweet after a heavy meal, but the dessert choices were too heavy in structure, fat, and/or calories to be comfortable for you at that point?
It is very likely you have not done so as to any one point above, yet alone all three, in that they are not attributes of American cuisine. But, with one classic French dessert, all 3 points are mastered. I refer you to Oefs ala Neige, ('Snow Eggs')
From my own travel experiences, I have rarely seen this desert in French restaurants anymore. The last I had was in 2016 at a brasserie in the village square of Villefrance sur Mer, as described in the posting so named on this blog. The reason for its disappearance, in my opinion, is due to the fact that it just too simple, not complex enough to shine the boots and the ego of a sous chef.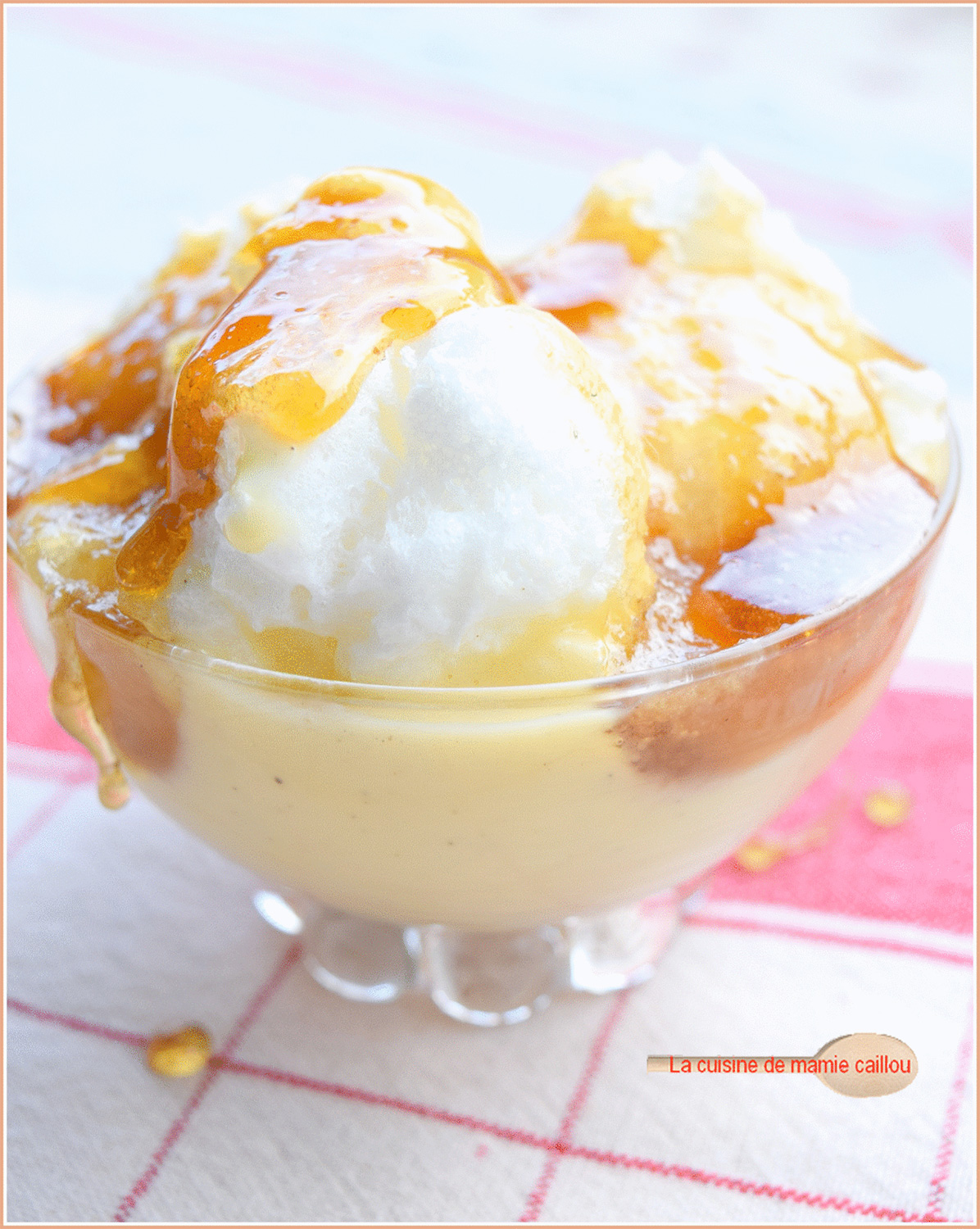 Actually, there are two types of this dessert. Oefs ala Neige is the original and consists of a serving of meringues that are poached in milk, which in turn is used to make Crème Anglaise. As shown here, the meringue are 'floated' upon the crème Anglaise and often topped with a thin stream of nearly-burnt caramel drippings. While it can be served at room temperature, I prefer it well-chilled to accentuate the meringue on the tongue.
Using the same ingredients, but with a different way of preparing and serving, Ile Flottante ('floating island') consists of meringues that are baked, instead of poached, and then served in some fashion (depending upon the pan used), again floating on top of Crème Anglaise. . . and again with a thin stream of nearly-burnt caramel on top. For Ile Flottante, there are 2 different approaches as to the baking of the meringues. The first is the use of a bain-marie (hot water bath, e.g., double boiler) in which the container of meringue is placed within another that contains water that is heated to softly cook the egg white mixture - and then onward with a serving of Crème Anglaise.
As to describing a second way of making Ile Flottante, it is served best with a brief story.
My introduction to Ile Flottante was in the Champagne district of France (Reims & Epernay) a decade ago when I was offered a private tasting at two Champagne houses there. Having been treated to both a bottle of Pierre Joulet's Belle Époque ('beautiful time') and Roderer's Cristal during the morning and afternoon, respectively, I was not really that hungry for dinner that evening in Reims until I read the menu of Le Millénaire. I ordered a phenomenal Magret de canard Burgaud cuit (quack!) with a choice of Ile Flottante for desert as part of a prix fixe menu. Having such an enlighteningly light dessert, I decided to develop my own recipe when returning home, but in an even lighter version as well and even easier to make.
I start with my revised recipe to make the baked meringue but with a substitution for the Crème Anglaise. That is, I make a raspberry sauce … or any other sauce for which I may have the ingredients, e.g., blackberry, lemon, or even rhubarb (the latter of which there is a RECIPE posting so named on this blog).
DIRECTIONS
REQUIREMENTS:
heavily buttered 2 quart baking dish, charlotte mold, bundt pan, etc.;
2 to 3 Tb sugar
8 egg whites (1 cup) at room temperature;
1/8 teaspoon salt;
1/4 tsp cream of tartar;
1 tsp vanilla extract;
1 cup instant or very fine granulated sugar, which I make in a blender for less than a minute using granulated sugar.
PROCESS:
Heat oven to 250;
Roll sugar in the buttered mold, knock out excess;
Beat egg whites at moderate speed until they are frothy, then beat in the salt and cream of tartar;
Gradually increase speed to fast, and when egg whites form soft peaks start beating in the sugar, 2 tablespoons at a time;
Continue beating until egg whites form stiff peaks, and beat in the vanilla;
Spread lightly in cooking vessel, which it may overfill;
Smooth exposed sides and top with a icing blade;
Bake in lower third of preheated, 250 oven for about 25 minutes, until meringue has browned slightly and risen about 1/2 inch;
Let cool for 30 minutes, then refrigerated for at least 1 hour
SAUCE:
Defrost 1 bag of frozen raspberries, or fresh if available. Use blender to mix the berries with a half jar of raspberry jam and honey to taste. Be sure to strain out the seeds. There is no need for precise measurements.
Ile Flottante has a relatively short life if let to its own. Over several days in the refrigerator, the meringue (no sauce applied) will dissolve into a simple syrup. Truth is however, given how light it is, it rarely lasts that long,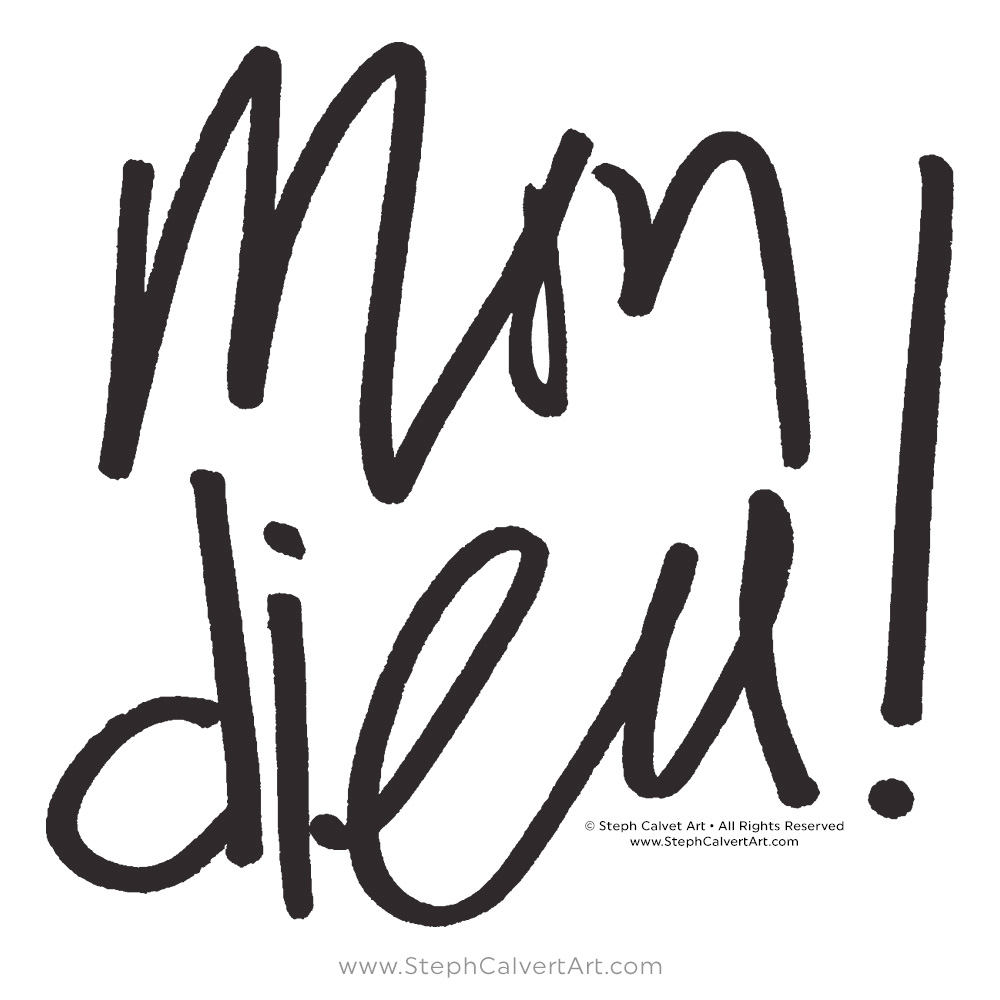 RON! What about the 8 egg yolks that were not used?
JAUNE:
I have two suggestions of which only one will satisfy your sweet tooth.
From my fraternity days a half-century ago, and going through Hell Week as a Pledge, egg yolks provided an amazing amount of protein that softens one's hair like nothing else, especially if it stays in the hair several days without being washed out.
Now well past my college days, I prefer to use the egg yolks to make Crème Brulee, but with several twists to what is normally done in restaurants, as follows:
REQUIREMENTS:
4 cups heavy cream
1-2 teaspoons vanilla pinch of salt;

8 egg yolks;
6- 8 ramekins;
·A cake pan sufficient to hold the ramekins without touching;
3/4 cup plus 2 tablespoons granulated sugar
8 tablespoons light brown sugar
PROCESS:
Preheat the oven to 300. In a heavy medium saucepan, combine the cream and salt. Warm over moderate heat until the surface begins to shimmer, about 5 minutes;
In a large bowl, stir the egg yolks, vanilla, and sugar with a wooden spoon until blended. Pour in the hot cream and stir gently to avoid forming air bubbles. Strain the custard into a large measuring cup or pitcher and skim off any surface bubbles;
Place eight 3/4 cup ramekins in a roasting pan. Pour the custard into the ramekins, filling them up to the rim. Place the roasting pan in the oven and pour in enough warm water to reach halfway up the sides of the ramekins. Cover loosely with foil and bake for 1 hour and 15 minutes, or until the custard is firm around the edges. (it may still be wobbly at the center; it will firm up as it chills);
Remove the ramekins from the water bath and let cool. Cover and refrigerate until cold, at least 3 hours
The custards can be prepared to this point up to 2 days ahead.
If small pools of liquid develop on the surfaces, blot with a paper towel before proceeding;
Preheat the broiler (if you don't have a salamander- electric or other as described below) and set the ramekins on a baking sheet. Sieve 1 tablespoon of brown sugar over the top of each custard in a thin layer. Using a metal spatula or a sharp knife to spread the sugar evenly. Broil the custards as close to the heat as possible until the sugar is caramelized, 30 seconds to 2 minutes; watch carefully. Let the ramekins cool and serve immediately or refrigerate for up to 4 hours.
OK!, to be truthful here, I am a purist with most French dishes I cook (excluding Gratin Dauphinois which will be a future RECIPE posting).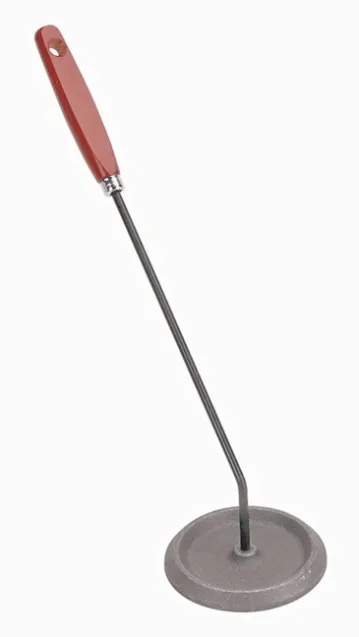 The point here as to Crème Brulee, is that I use the classic, non-electric version of the salamander mentioned above which is a hockey-type puck at the end of a rod that is heated as much as possible to singe the brown sugar on top. With this method, the unused servings can be refrigerated which results in a succulent caramel syrup on top – not unlike an inverted crème caramel, but much richer given the use of heavy cream for Crème Brulee. As to the popular use of butane torch by most restaurants now to caramelize the top, I find that absolutely discussing. BTW, do not attempt to take such a salamander through TSA. They will likely view this as a club. I know that from experience when attempting to deliver such devices to my adult children. TSA viewed them as a potential club.