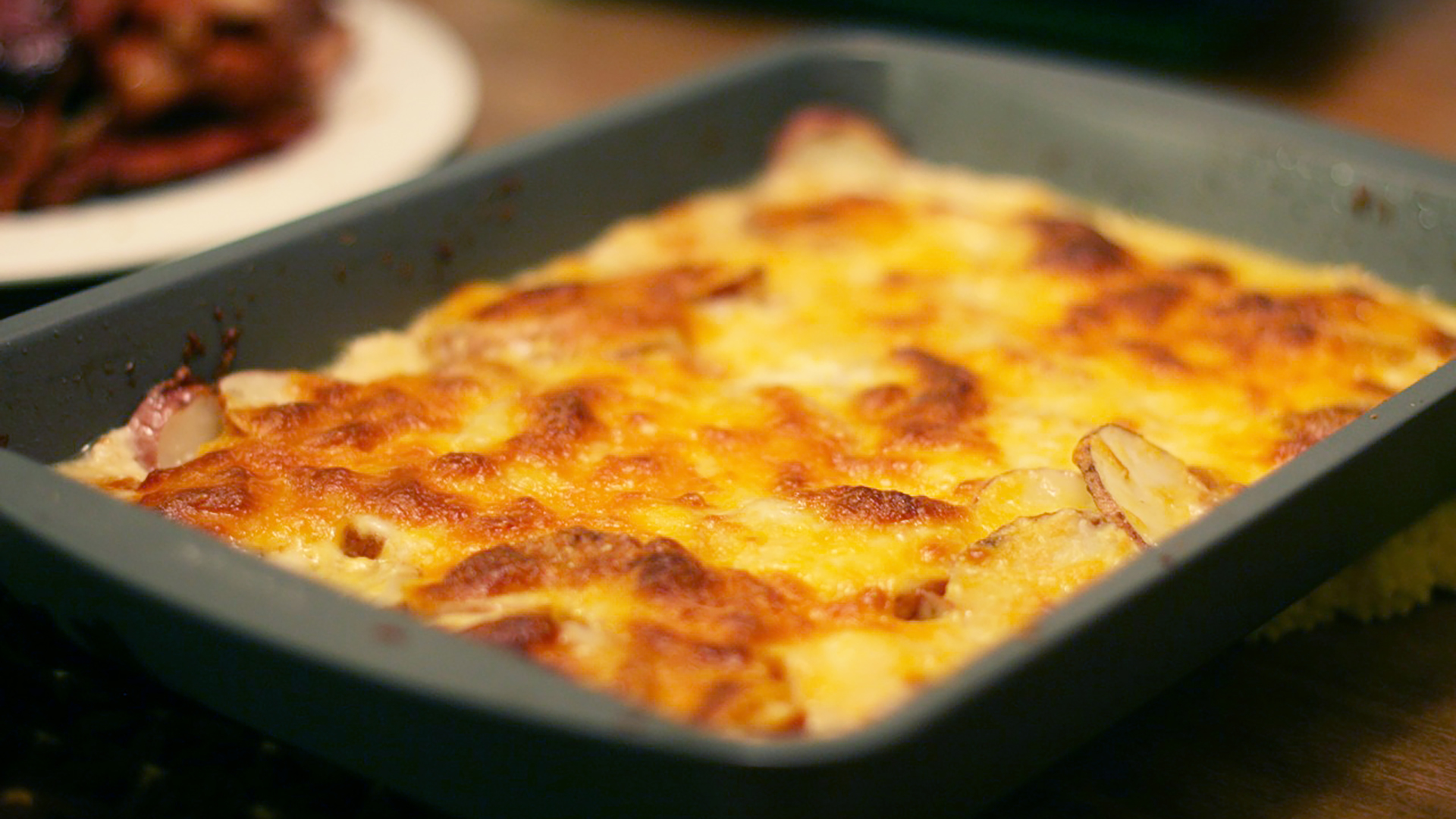 Gratin Dauphinoise
Over the years with my extensive travel in France, there are 4 food items that I consistently look for on a restaurant's menu: 2 deserts (Tarte Tatin & Ile Flottante), 1 side dish (Gratin Dauphinois). and one sauce for beef (Marchand de Vin). As to the deserts, I have mastered them, that is with my own version of Ile Flottante. As to sauces, I have a phenomenal recipe for Boeuff Bourguignon where I discard the beef that was used, and then use the sauce on some extraordinary piece of steak, e.g., Ribeye Cap. Finally, as to the side dish of Gratin Daughinoise, I have also mastered that, but only by cheating on the true French recipe, as I explain below.
I have mentioned Gratin Daughinoise in my posting: "Villefranche sur Mer: Without" on this blog. I first had this dish at a small, traditional-French restaurant in Beaulieu sur Mer, that no longer exists. Every year, for 15 years or so, for my vacation in Villefranche sur Mer, I would go to this restaurant in this next village to be entertained by the owner, Christophe. Regardless of what I ordered, Christophe would complement with a serving of Gratin Daughinoise ever since my first visit when I raved about it. After several years of going there, I asked Christophe for the recipe. Very simple: sliced potatoes baked in heavy cream until tender and browned on the top. That was it. The next year when I returned, and having failed several times to do this in the U.S., I challenged him. "Christophe, what cheese do you use to get the creamy richness of the dish?" His response was crisp and direct. "Monsieur Ron, I use NO cheese - just potatoes and cream... and a touch of nutmeg and garlic", he finally shared). After dinner I asked Christophe about the potatoes, since that was apparently the variable in what i had prepared. He noted that the potatoes were from the North of France and particularly starchy, hence explaining the creaminess of his dish. With that said, I was prepared to return to the States and make the appropriate adjustment in the potatoes I used.
Long story short, I was still failing to achieve what he served. Soooooooooo, I cheated as to the recipe by adding Gruyere cheese in between the layers of potatoes. FANTASTIC - the recipe follows:
By providing my recipe below, I must be candid in that the portions I describe are quite variable, and yet always fantastic. This 'recipe', regardless of minor fluctuations, is fail proof in my opinon, in my experience.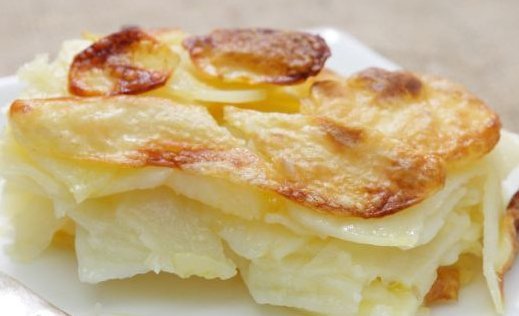 Using a salamander (you should have this in your kitchen), slice 2- 2.5 pounds of skinned "gold" potatoes to 1/16 inch. Some suggest 1/8 inch, but that can require additional cooking time.
lightly spray a 9x12 ceramic dish with oil, at least on the edges to facilitate washing,
Rub some garlic juice on the bottom. Not sure why, but this dish really doesn't require garlic.
Using the salamander (see!, it is important) make thin slices of Gruyere cheese, maybe 4-6 ounces.
Now make a first layer of potatoes to cover the bottom thoroughly.
Cover that layer with 1/4 of the Gruyere slices.
lightly sprinkle some nutmeg over the layer.
Repeat with additional layers of potatoes, cheese and nutmeg until the potatoes are used.
For the very top, be sure to end with some cheese
Now pour over 2/3 cup of heavy cream for it to seep down between the layers, I really don't know how much cream to use ... very subjective.... but you don't want this to be soupy at the end.
Bake at 400 until the top is well browned and the potatoes are easily pierced with a skewer.
Lastly, let it cool for minimum of 15 minutes for it to congeal to some point that it can be cut and served properly.
So given my imprecise instructions, you may want to try at least once before serving company .... or just blame me if your attempt fails. Lastly, I find that leftovers don't freeze well. The stuff is kind of mushy when heated again. However, portions reheat very well if not frozen.