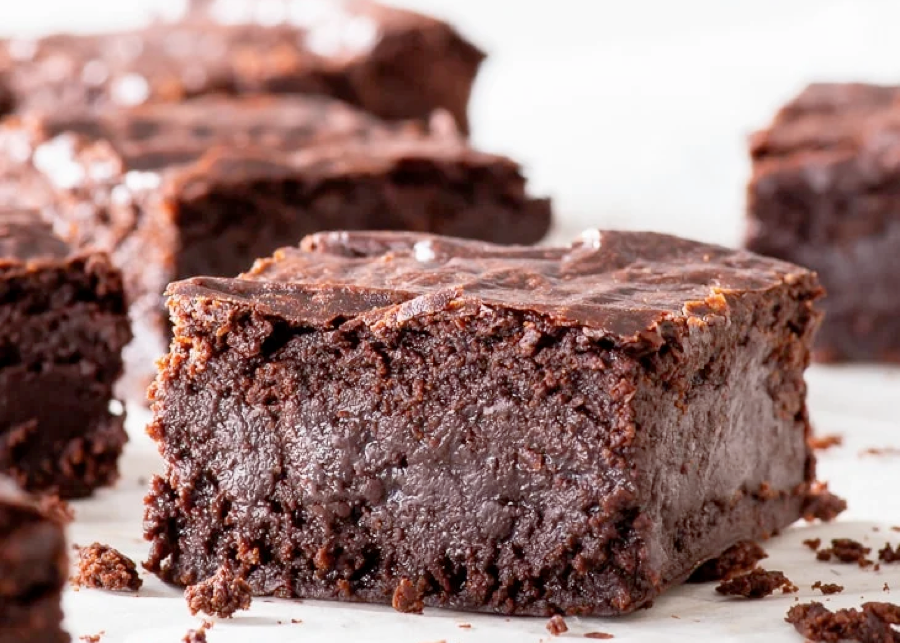 Sweet Justfication
When I was an early teen, I had a premature interest in cooking. My culinary preference was that to feed my sweet tooth, e.g., several different fudges, hardening ice cream sauces, chocolate chip cookies (Nestles' back of the package recipe, 'butter horns' (I lost that recipe), and true buttercream icings for cakes (still a favorite). Of course, there were the box recipes of puddings, tapioca and 'moist' cakes. In my latter teens before college, the cooking was focused on a variety of pizzas, unusual sandwiches, and somewhat exotic burgers (that now are commonplace). Now 74 and as evidenced by various RECIPE postings on this blog, I have transformed to being a serious amateur as to my French-influenced cooking.
In between, there were several phases in my cooking. For example, as a divorced father 3+ decades ago, I had the ongoing responsibility to not just feed my children when they were with me, but also the challenge to entertain them as understood by all divorced fathers - especially with the teenagers. Cooking the unusual foods that they could experience away from their Mom, was one of my methods perhaps only to help justify my guilt in having pursued a divorce. There is a lot of points in that last sentence, but not for here.
Below, I provide 3 sweet things for entertaining teenagers.
1. This first sweet justification is that of a brownie that has the lightness of cake, but the chocolate intensity of a brownie. The reason for these characteristics is apparent when you read the following, very simple recipe.
1 Betty Crocker's Devils Food 'Super Moist cake mix
3 Eggs
1 1/3 cups Water
1/3 cup Vegtable oil
1 Container Pillsbury Chocolate Fudge icing
1 Large package Nestles Chocolate Chips
Some confectioner's sugar
I only have used the brand names as shown. However, substitution brands of 'moist cake' mixes will probably be fine. Simply prepare the cake mixture as directed on package. Then add icing and mix well. Lastly, stir in the chips. Pour into 9x13 pan which has been greased and floured. Use the temp on the cake box, and bake until a knife in the center comes out clean. This will be longer than the time stated on the mix box. Once cool, use a fine strainer to spread powered sugar over the top. Most often the center will fall making for dense, gooey pieces. The border pieces will be more like cake. The chips will have fallen to the bottom and provide a solid chocolate layer.
As a side note, you can "refresh" the brownies after several days by simply shifting powered sugar on the tops.
2. Miniature cream puffs filled with whipping cream that are deep fried instead of baked
1/2 cup unsalted butter, cut into 8 pieces
1/2 cup water
1/2 cup whole milk
1/4 teaspoon salt
2 teaspoons granulated sugar
1 cup all-purpose flour
4 large eggs, beaten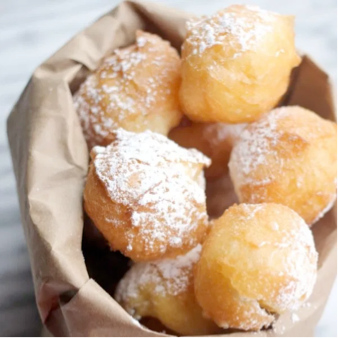 Make the choux pastry dough: Combine the butter, water, milk, salt, and granulated sugar together in a medium saucepan over medium heat. Stir until the butter has melted. Bring mixture to a simmer. Once simmering, reduce heat to low and add the flour all at once. Stir until the flour is completely incorporated and a thick dough clumps into a ball. Mash the dough ball against the bottom and sides of the pan for 1 minute, which gently cooks the flour. Remove from heat and transfer to the bowl of a stand mixer fitted with a paddle attachment or, if using a handheld mixer, a large mixing bowl. Allow to cool down for a few minutes before adding the eggs in the next step.
With the mixer running on low speed, slowly add the eggs in 3-4 separate additions mixing for 30 seconds between each. The mixture will look curdled at first, but will begin to come together as the mixer runs. Pour in the final addition of beaten eggs very slowly. Stop adding when the choux pastry has reached the desired texture: shiny, thick, and smooth with a pipeable consistency.
Your choux pastry dough is complete! You can use it immediately or cover and refrigerate for up to 3 days.
Drop tablespoons of the dough into 350o oil and fry until golden brown. The balls will puff and automatically turn over, or do so manually.
Place cook balls on paper towels to cool. Once cool, dip into a bowl of powered sugar to coat.
3. Lastly, a French-inspired goodie involving crêpes.
make or buy some crêpes
crank up the deep fryer to 350o
cut crêpes into 1 1/2 inch strips
drop a bunch into the deep fryer
when obviously done (not too brown) place them on papertowels to cool
coat them with powered sugar
make a fruit sauce (apricot and raspberry are great) for dipping by heating and whipping a jar of reserves with a fork.