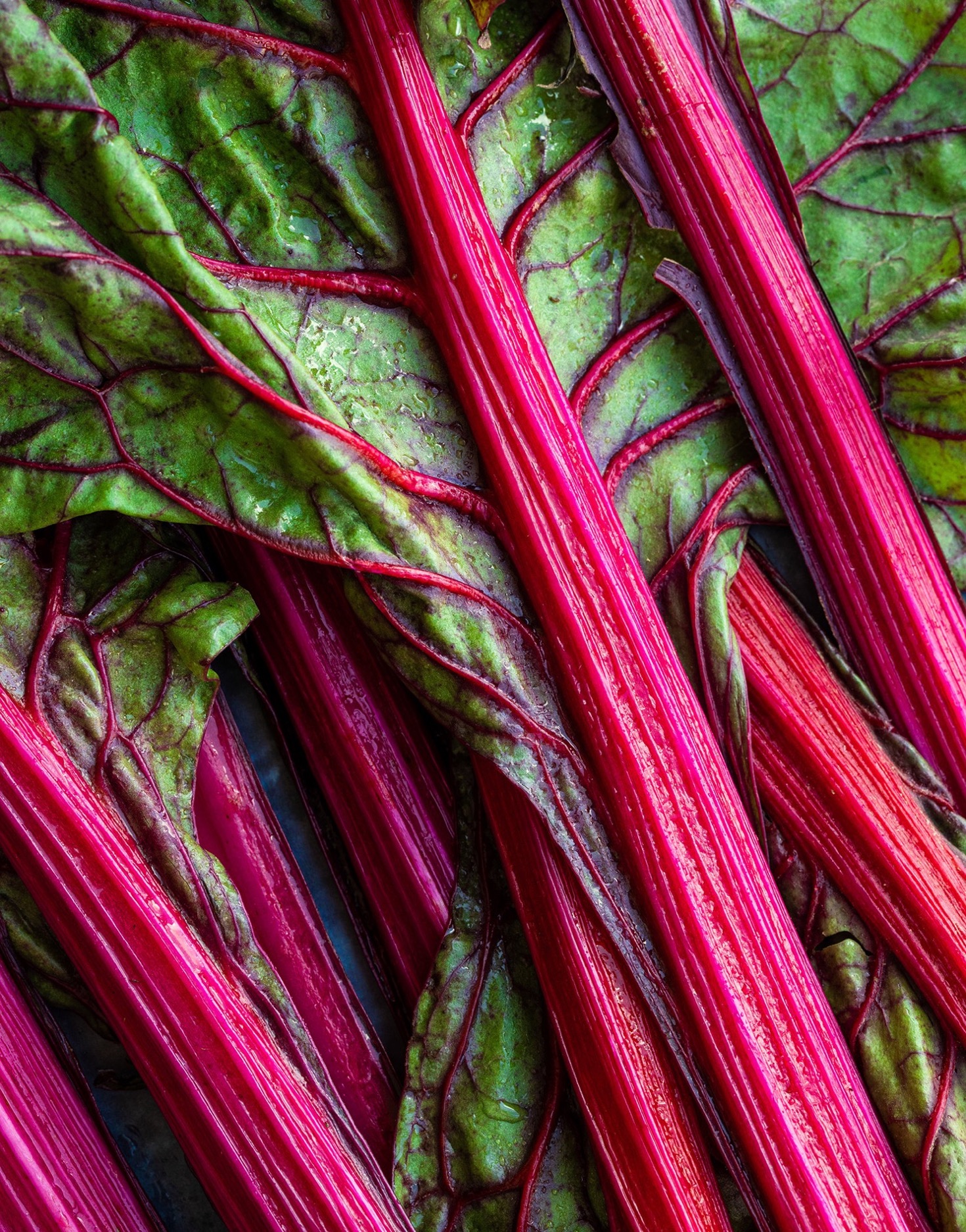 Rhubarb
Sunday, September 13th, 2020
Recipes
by Ron Lindsey
Rhubarb is THE ONE taste in various forms that I crave all year. The FAKE news for many is that it is a fruit given that it provides distinctive, galactic-extraordinary flavors for desserts. However, Rhubarb grows from the ground and looks like celery, but colored ruby-red at its finest. Hence, it is a vegetable. Unfortunately, Rhubarb is not grown in the South, and in the North it's availability is primarily limited to April / May.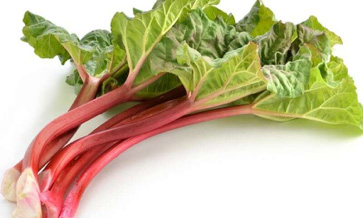 As a boy in Pittsburgh, I would salt and eat fresh rhubarb stems as a path to manhood as a challenge to my less daring friends, Really! That was clearly more socially acceptable than dragging on cigarettes. Then again, my crowd in the late 50s would eat the industrial salt out of road-side containers used to spread on icy roads. Unquestionably the ingredients of that particular salt as well as my youth spent swimming in Lake Erie, touched off with wind surfing in/on Lake Pontchartrain in New Orleans for 8 years, has contributed to my apparent disease resistance - perhaps even Covid-19. ..... OK, I am not foolishly relying on that point and am religiously wearing my mask ... and NO longer partying all night at wild beach parties with college students.
As apple deserts are often enhanced by cinnamon, sour cherry pies by almond, blueberry pies by nutmeg (even a layer of bananas on the bottom for a twist), rhubarb benefits by the use of orange zest/juice in various desserts. And, given its degree of lip- puckering sourness, a fair amount of sugar is needed to make it palatable. BUT, the flavor has no comparison, Granted, folks in the Midwest have their gooseberries for similar sweet-sour, but rhubarb is the winner nonetheless.
Rhubarb has been a staple in many desserts in England since the 17th Century. That country has their specific Victorian Rhubarb (google for the detail). In France, rhubarb tart (galette) has a modest presence most notably in the Paul patisserie throughout the country. Even the Paul in the City Stars Mall in Cairo has a strong following for its rhubarb tart. Additionally, Rhubarb is well appreciated in Germany and other EU countries with similar weather patterns. But again, in the U.S. it is a staple of the Northern Mid-West states as presented in Garrison Kellor's song in his Prairie Home Companion shows: Bebob-a-rebop Rhubarb Pie (https://www.youtube.com/watch?v=3J5vLFW9Lec - skip first 6 minutes) ... or ... John Fogerty's Rhubarb Pie (https://www.youtube.com/watch?v=0DrK2JAuuFc)
Below, I share my recipe for rhubarb pie, including my Mom's crust enhanced by several points I have learned over the years. However, I need to state first that I am greatly disappointed in American cuisine that often serves rhubarb deserts, jams, etc. that include glutinous amounts of strawberries, as I noted earlier. This abhorrentcombination, unfortunately, has become a popular offering in grocery store pies, jams, etc. As best as I can determine, this repulsive, probably Southern Republican-based mixture, is due to the fact that the two have a somewhat common growing season.
Crust Process
Mix 3 cups King Arthur flour (only) with

With 1 stick frozen unsalted butter and 1⁄2 cup frozen Crisco (frozen lard

works also), use a grater to chip small pieces of each into the flour mixture.

With a large fork, make an initial blend. Then use your fingers to grind it down

to small pieces.

Add the minimum amount of ice water to just bring the dough together,

roughly 1/3 cup +. DO NOT over blend.

Split the dough in half and place each between 2 sheets of parchment paper

and pat the down to 8" disks or so.

Place it in the refrigerator for at least 4 hours, preferably overnight
Rhubarb Filling Process
Use 2 1⁄2 pounds of rhubarb stalks with the leaves cut off. Cut into 1⁄2 inch lengths and place in a pan for the following heating process.

Stir in the juice of one orange to coat the rhubarb pieces.

Mix together 2 cups sugar, 1⁄2 cup flour, 1 tsp nutmeg, 1 tsp cinnamon, and

then mix in with the rhubarb. Let it sit for 10 minutes or so. This will help

dissolve the sugar mixture into a slight syrup.

Over medium heat, cook the rhubarb mixture until it has softened and

somewhat syrupy. No need to boil, a slight simmer is okay. Stir often to keep the mixture from sticking and burning at the bottom.
Pie Assembly
When ready to use, pull out only one disk and let it warm up slightly before rolling it out between parchment paper dusted with flour. You will notice small yellow spots in the dough which are the butter particles that provide for the flakey structure when baked. This layer is for the bottom and should be just a bit larger than the pie shell. Before transferring the mixture directly to the shell with bottom crust in placed, take out the second crust disc to let it warm up slightly for rolling it out, also between 2 dusted parchment papers.

With the mixture in the pie pan, top with several slices of butter.

Rollout the second crust so as it will extend about an inch paste the pie shell

and the bottom crust.

Lay the second crust on top and then fold the upper crust's edge underneath

the edge of the lower crust to seal it.

With your fingers pinch the 2 crusts together along the edge to make ridges

Provide several slits in the upper crust, with a small hole in the center.

Bake on the middle lever in a 425 oven for 10 minutes, then 375 on a cookie

sheet lined with aluminum since there is a chance that the filling goodness will

bubble out and overflow.

Cook around 45 minutes or more until the mixture at the center hole is

thickening, and bubbling.

I often line the outer edge of the pie with aluminum until the last 10 minutes or

so to keep it from burning too much.

DO NOT CUT the pie until it has cooled. It has to set.
The salt and sugar in the crust, along with its flakiness will be your best. Of course, the shell recipe works for other fruit pies adjusted for their particular cooking characteristics.
Serving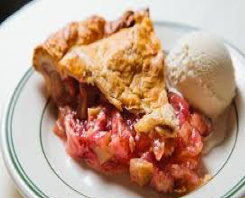 One last point, which for me is a critical consideration, is that I usually serve the pie warm with a side of vanilla ice cream – only Hagan Daaz. What is critical here is that ice cream should be whipped smooth 30 minutes prior to serving and then placed back in the freezer. This breaks up the ice crystals and provides maximum fat surface / taste. Also, I often soften the ice cream and blend in flavorings, e.g., honey, anise, hazelnut liquor, or a small touch of peppermint oil, depending upon what the ice cream is to be complimenting. Again, once whipped, place it back in the freezer to achieve a somewhat flowing structure.
During the months of rhubarb harvest up North, I use to bring back fresh rhubarb to Jax and make a pie or two to freeze for consumption in the summer. However, I have always been disappointed. Those pies are not nearly the same as fresh. So now I make rhubarb crisp which sustains better during freezing. As to canned rhubarb, the only that I have found is that packed in strawberry syrup. NO! N0! NO! Several years ago I found frozen rhubarb in Jax. It was not as good as fresh, of course, but acceptable and superior to canned.
Lastly, there is another posting on this blog titled 'Glorious Galette'. What a great crust as an alternative for savory and sweet deserts.